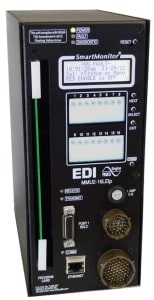 NEMA LCD Malfunction Management Unit
MMU2- 16LEip with Ethernet Port
MMU2- 16LE with EIA- 232 Port
Whether you're a NOVICE or EXPERT Signal Technician, wouldn't it be great if you could:
Use a built-in SETUP WIZARD to quickly and accurately configure the Signal Monitor to the exact requirements of the cabinet and intersection?
Use a MENU DRIVEN LCD interface to view vital cabinet operational details such as field signal voltages, historical event logs, and monitor configuration data?
Use a built-in DIAGNOSTIC WIZARD to automatically diagnose cabinet malfunctions and pinpoint faulty signals?
If your answer is Yes, the MMU2-16LE SmartMonitor® is for YOU!