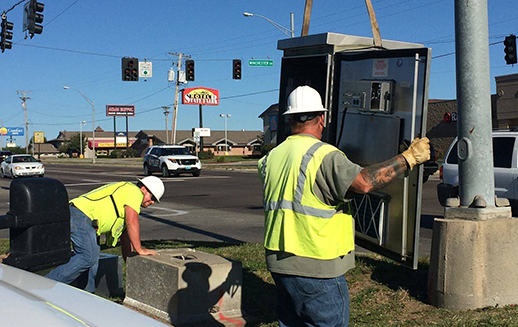 Experts in Traffic Solutions
MoboTrex's expertise results in the best traffic solution for every customer, every day.
From traffic signals to pedestrian signals and traffic control cabinets to intersection control software, MoboTrex keeps a mobile population moving forward with innovative products and expert solutions, one intersection at a time.
MoboTrex is headquartered in Davenport, Iowa, with additional locations in Austin, Texas; Powhatan, Virginia; and Volo, Illinois.
With extensive experience solving traffic problems across North America, our traffic control experts have the vision and engineering know-how to transform trouble spots into safe and efficient intersections.
Traffic Control Products
MoboTrex has all the products and strategic partnerships required to prepare your city's intersections for future traffic and mobility needs.We engineer and manufacture Eagle brand NEMA cabinets, CALTRANS cabinets and ATC cabinets, traffic signals and accessories featuring our flagship Eagle Traffic Control Systems.
And we continually expand our product and service offerings to meet the demands of the industry. From pedestrian push buttons to Advanced Transportation Management Systems, MoboTrex provides innovative solutions manufactured to exacting standards of quality.
In addition, MoboTrex is renowned for its ingenuity. Need a custom enclosure? We can design it. Have a concept sketched out? We can make it reality.
Our top-quality products + robust partnerships with other brands = a powerful combination making MoboTrex the only traffic control expert you need.
We mean it when we say MoboTrex can help with every step of the traffic solution process, from planning to product purchase and set-up to ongoing training.
Authorized Distributors in North America