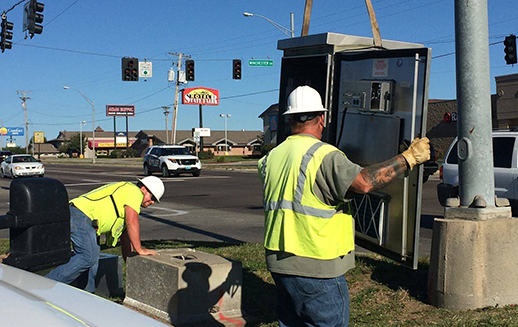 Experts in Smart Mobility
Over a Half-Century of Safely Moving People
We've been committed to providing advanced traffic management solutions since we started serving the Intelligent Transportation Systems (ITS) industry in 1969. Our forward thinking forefathers understood smart mobility and how vital it would be to the future of our cities and economies.
The fast growing transportation arena thrust MoboTrex further into intelligent mobility operations with the manufacturing of traffic signals, traffic control cabinets, intersection control hardware and software and specialty products.
Headquartered in Davenport, Iowa, MoboTrex added locations in Austin, TX; Powhatan, VA; and Volo, IL, to better serve customers with timely intelligent mobility solutions. We continue to expand our product lines and form strong partnerships to remain the industry leader our customers trust. Each day we're driven to fulfill our promise of being your traffic and mobility experts.
Keep Moving with MoboTrex Your Mobility Experts
A Passionate Team. We're committed to producing the best products and services in the industry while staying on the frontline of intelligent mobility. Proper maintenance of your systems will save you time and money. MoboTrex mobility experts are is at your service to help you remain proactive and avoid costly equipment malfunctions.
Flagship Products. Eagle brand NEMA cabinets, CALTRANS and ATC cabinets, traffic signals and accessories with our leading Eagle Traffic Control Systems.
Dealer Network. Our extensive partnerships reach across the nation to provide traffic control systems, testing, training and maintenance for your smart mobility requirements. See one of our authorized dealers throughout North America.
UL Listed NEMA Enclosures
MoboTrex manufactures a range of UL Listed NEMA Cabinets and Enclosures including the common 1, 3R and 4 type Cabinets.
Underwriters Laboratories Inc. (UL) is a privately owned and operated, independent third-party product safety testing and certification organization with more than 1,000 standards for safety. These standards ensure safety and improves the quality of the enclosure. We produce standard and custom electrical enclosures that comply with UL standards to give you a high-quality, UL listed enclosure.
• Ground Mounted
• Pole Mounted
• Wall Mounted
• Custom Enclosures
Authorized Distributors in North America