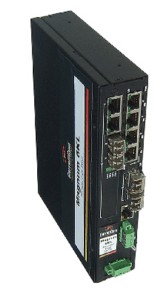 Magnum™ 6KL Managed Edge Switches incorporate the latest in reliability and security for harsh environments, especially "edge" applications on the periphery of the network where industrial devices are connected. The high performance 6KL base unit comes with four 10/100 copper ports (either regular or PoE). Up to 4 100Mb or 10 Mb fiber ports or up to four more 10/100 copper ports, or combinations, may also be configured. Two Gb ports may be configured as SFP ports or as 10/100/1000 copper ports. The  Magnum  6KL comes with the best-of-breed MNS-6K managed networks software, proven in tens of thousands of hardened applications over 10 years of service. It features GUI ease of use, Secure Web Management, SNMPv2,v3 management, 802.1p QoSPrioritization,Tag- based VLANs, IGMP Snooping and IGMP-L2 multicast management, port security, and  a choice of software redundancy options including RSTP-2004 with industry-leading fault recovery times in rings and meshes, and GarrettCom's S-Ring product which supports unmanaged switches as part of resilient rings. MNS-6K-SECURE adds more security features such as SSH, RADIUS and TACACS+  support,  SFTP,  DHCP  Server, Syslog events, TFTP and SNTP Server. See the MNS-6K and MNS-6K-SECURE datasheets for more information.
Magnum 6KLs are ideal for building a switched, hardened Ethernet network infrastructure, connecting edge devices such as PLCs and IEDs with upstream switches or routers. Designed for use in industrial and heavy duty outdoor applications suchas industrial video surveillance systems with PoE, power utility substations, traffic control and transportation facilities, tariffed carrier field facilities, or oil and gas, the hardened Magnum 6KL handles stressful workloads. The 6KL's sealed metal case serves as a heat sink, enabling the 6KL to operate in the harshest industrial grade environments and achieves high EMI noise immunity. The 6KL is available with Conformal Coating options and is rated IP52 for dust and water resistance.
The 6KL can be configured with the user's choice of DC power supplies: 12V and 24V for factory floor, 48V for tariffed carrier field facilities and for PoE-powered applications such as IP video surveillance, and 125V or 250V for substations. An internal AC power supply may also be chosen, universal AC for use worldwide.
Like all Magnum products, the 6KL Managed Edge Switch has all appropriate agency approvals and compliance certifications, including: third- party UL testing for safety and temperature rating, NEBS L3 compliance, IEC 61850 & IEEE 1613 for power utilities, and NEMA TS-2 for use in transportation systems outdoors.
Download Datasheet for Garrettcom 6KL Switch